Audio marketing allows Hospitals and Healthcare facilities to communicate with, inform, and educate patients, callers, and visitors. The well tailored use of audio has allowed healthcare facilities to:
Improve patient care.
Boost public relations initiatives.
Grow patient acquisition, loyalty, and engagement.
Holdcom has a range of audio marketing services to suit the needs of the largest healthcare system as well as the budget of a small private practice or clinic.
Audio Services for Healthcare Facilities
---
Resources for Healthcare Facilities
In How to Leverage Audio Marketing for your Healthcare Facility, you'll learn: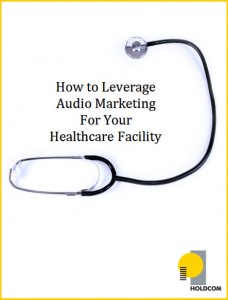 How industry leaders use audio for marketing and patient care strategies
How to make call processing helpful and informative for patients
How to incorporate audio on your website, Social Media pages, and virtual tours
The healthcare-related articles at Sound Communication, the Holdcom blog, will keep you informed about current events, trends, and strategies for healthcare public relations and patient care.
Testimonials
I want to express how wonderful it is working with Holdcom. You and your team are amazing. The professionalism is second to none and you are always willing to work something out with your customers. Your timeliness is very helpful and you know exactly what your mission is, and it is executed beautifully. Your attitude is infectious, and words cannot express my gratitude. Keep up the good work and have a great day.
Frederick Campbell
WOODHULL MEDICAL CENTER
Thank you to everyone for working on this and finding a solution! I am so appreciative of the time each of you took to resolve our previous problem… We all agree that Holdcom overhead music and on hold messages are great services and would like to continue to work with you. Thank you again for everything.
Ginger
PRIME CARE
Just a quick note to tell you that my relationship with your company has been stellar. Rob is a very client-focused representative and your company is one of the best companies that I deal with on a monthly basis. I also think your product is excellent. Thanks for all of your help and good work! Your thoughtfulness, time and consideration have made my life a lot easier and, more important, have helped our hospital.
Ron
MONONGAHELA VALLEY HOSPITAL
---
Healthcare Audio Samples
Healthcare Message On Hold Client Demos