The Internet is just another medium that communicates with people, people who can see… and hear. When you leave out the dimension of sound, you limit the ability to reach your intended target.  You limit your ability to inform and reach people and connect with your audience.
---
Websites were not meant to be silent. They were meant to engage and inform your website visitors.  The power of sound, of the human voice, can increase your website's ability to resonate with visitors and influence their behavior.  Use website audio to:
Increase website stickiness
Help visitors navigate site
Engage website visitors
Announce promotions
Play customer testimonials
---
Online training programs are becoming more popular. Because eLearning is web-based, it provides abundant opportunities to incorporate interactive elements. You can use audio in your eLearning programs to:
Create realistic conversations
Improve knowledge retention
Highlight key points
Keep learners interested
Order NowLearn MoreDownload Free Guide
---
Virtual tours render images to produce a life-like experience for online viewers. By adding audio, your tour becomes more life-like and engaging. You can add:
Narration
Background Music
Ambient noises
Videos
Order NowLearn MoreDownload Free Guide
---
Great videos are professional and engaging. Video content is the marketing and customer service strategy of choice for businesses looking to effectively communicate with their customers. We offer:
Full HD Production
Green Screen/Chroma Keying
3D Graphics & Text
Pro Audio Recording & Mastering
Many more services to make your video vision a reality
---
Wish your customers well during special times of the year by sending audio eGreeting cards. Include a coupon or promotion with your card to let customers know how much you care. Audio eGreeting cards acknowledge:
Birthdays
Anniversaries
Holidays
Any Occasion
---
Communicating on social media sites like Facebook and Twitter doesn't have to be limited to text and images. By incorporating audio into posts and apps, you can differentiate yourself from the competition and wow customers. You can create:
Branded Radio Stations for your Facebook page
Podcast streams
Audio messages in tweets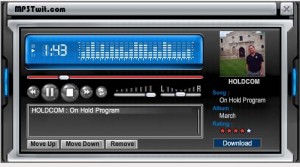 Order NowHear A SampleLearn More
---
Don't see what you're looking for?
Explore our other services: telephone applications, in-facility audio, or multimedia productions. We also offer script services and foreign language solutions.