Whether they're connecting with you on the phone, online, or in person, your existing and potential customers are looking for one thing: information. Holdcom's wide variety of audio marketing tools helps you keep clients informed when they're planning a vacation, looking for a timeshare, or checking the status of a flight. Contact us or request a proposal to see how our services can help grow your business.
Audio Marketing Services for Travel
---
Resources for the Travel Industry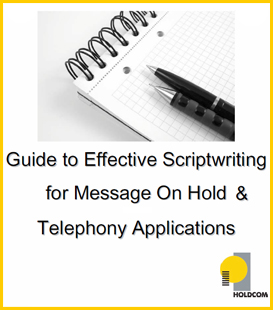 Learn how to write Message On Hold scripts that captivate, inform, and entertain callers.
Click here for your FREE download
Learn more at Sound Communication, the Holdcom Blog.
Testimonials
I want to thank you for our on hold program. Your service and finished product are the best I have ever encountered! Mike Martin, President of Proformix, is extremely pleased with the tape as well. You were able to use the information that we gave you to produce exactly the kind of message we were looking for. Also the turn around time is outstanding! I know this is your job, but not every company is able to do their job as well as you do yours.
Betty Andre, Office Manager
Proformix
Holdcom has provided me with hold messaging and VRU voiceover services for 4 years now. I've always been completely satisfied with the results. The scripts I submit for locations within North America have been improved upon and implemented with high quality. Afterwards Holdcom continued to monitor these services. The recordings are exceptional and have always been implemented in a timely manner. These have allowed me the peace of mind knowing that I have a business partner that reflects such pride and professionalism in their services. I would highly recommend Holdcom to anyone who can use their services.
Martin Keane, North American Systems Administrator
COSCO Container Lines Americas, Inc.
---
Client Samples
Popular Production Music Themes