Financial Institutions can use audio to improve marketing and customer service initiatives. Banks, credit unions, and other organizations use sound to communicate with, inform, and educate clients, callers, and visitors.
Holdcom has a range of audio marketing services to suit the needs of the largest institution as well as the budget of locally based community banks. A variety of systems and service levels are available that can be customized for any organization's requirements.
The well-tailored use of audio has allowed financial institutions to improve client services, boost public relations initiatives, and grow customer acquisition, loyalty, and engagement.
Audio Services for Financial Institutions
---
Marketing Resources for Financial Institutions
Guide to Effective Scriptwriting for Message On Hold and Telephony Applications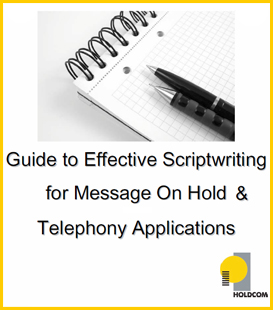 Learn how to write the best possible scripts for Message On Hold, voice prompts, and more.
Click Here for your FREE Download.
Learn about audio marketing at our Resource center, or at Sound Communication, the Holdcom Blog.
Testimonials
In those instances when our customers need to be placed on hold, it is important that they be advised that their call is both important and that they are not being placed into an unending message loop. By varying our messages, with frequency, we are able to effectively reduce customer waiting anxiety while also creating possible future cross-selling opportunities. In any service business, outside vendor reliability can sometimes make or break a customer relationship. Holdcom's service has always been exceptional.
Gary Perino, Public Relations Officer
Columbia Bank
Holdcom does a very good job in representing our products and services in an attention-getting manner. The wait that our callers experience is minimized by the fact that they're hearing specific information that will benefit them. And our callers often comment on the pleasantness and professionalism of our messages. Holdcom has always been very user friendly. The staff is most polite and willing to assist in any way possible. They frequently call to see if we would like to update our messages and music, so that we can take full advantage of their service. Adnd they even assist in writing the scripts. We highly recommend Holdcom to any company who needs to place their clients on hold.
Geneva Cox, Senior Vice President and Director of Corporate Marketing
FNB
---
 Financial Industry Client Samples