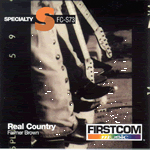 Real Country is a Music On Hold album immersed in Americana and the spirit of having a good time. The tracks are straight forward and pleasing to the ear – the perfect way to put your customers in the spirit of having a good time and enjoying your business.
"Pull Over" wakes you up with the sweet pangs of the electric guitar while forcing you to tap your foot to the snare drum keeping time throughout. The tight drum pattern lends a sincerity to the track and keeps a quick tempo.
The business that rocks out to "Aiming High" certainly works hard, but plays hard as well!  Your customers will enjoy the charming piano and harmonica riffs featured intermittently throughout. This track would work excellently for brand that wants to show they get the job done with confidence and personality.
"Cock Fight" starts out unassuming as the band tunes its instruments and the leader calls out the count off, but then right away gets your blood flowing.  The wail of the guitar and fast pounding drums demands the listener's attention while your Message On Hold program is playing. This track is a great fit for business who want their customers to get up and move!
"Let Go Reverend" leads in with a little piano and gives way to a lead electric guitar that reminds you of gathering with old friends. If your business involves people and getting them together,, this track helps to convey that sense of community and involvement. The electric keyboard pops up at times and lends a modern but still bluesy feel to the piece.
Finally, "Sweet Thing" is one of this collection's most mellow tracks and perfect for a variety of types of business. Subdued and wistful, the tempo still works for keeping your customers engaged and attentive while waiting on hold.
Real Country is a collection of down-home music that will make your customers feel like they are part of your brand and family. Customers who wait on hold sometimes complain that they feel unimportant or neglected by being on hold, but Real Country has a way of bringing them right in and making them feel appreciated.