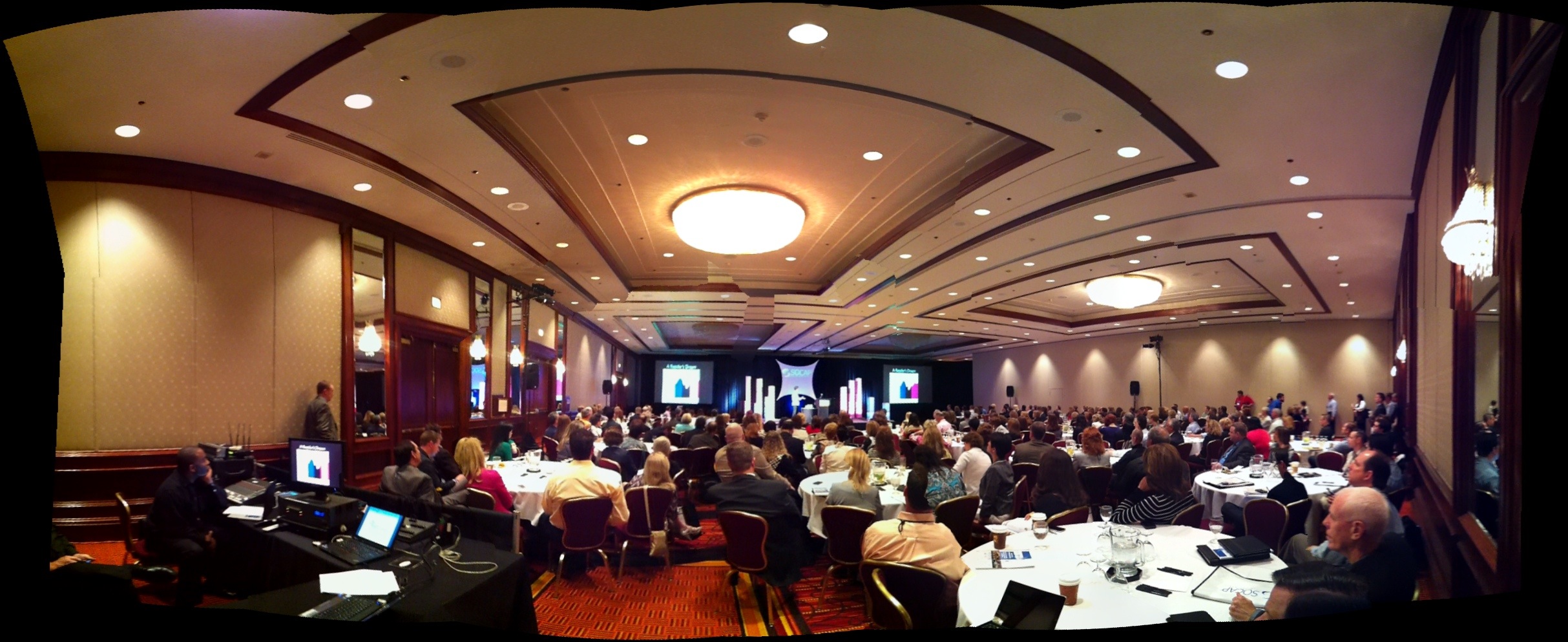 The best way to improve customer service strategies is to learn what others are doing to keep their customers satisfied. With this in mind,  customer service  experts and brand representatives gathered in Baltimore for the 2012 SOCAP Spring Symposium from April 22 to 25. The Inner Harbor was buzzing with industry focus, as the annual event attracted major brands and vendors from across the continent and around the globe.
The Spring Conference content was geared towards SOCAP industry communities: Consumer Packaged Goods, Hospitality and Travel, Retail and Direct Sales, and Healthcare. The focus of the symposium was Customer Service and the challenges faced by organizations in an ever-changing landscape of consumers and technology. The three-day event packed a full schedule of events: Inspiring and thought-provoking keynote speakers; morning Trend sessions; afternoon Industry sessions; and workshops designed to enhance skills, knowledge, and collaboration within vertical markets. One of the Trend sessions, "Bringing Back the Personalization of Service", was presented by author Richard Shapiro from The Center for Client Retention. Contributors included Marie Shubin of E&J Gallo Winery and Donna Haller of Kellogg Company.  Neil Fishman, President of Holdcom, attended the breakout session and remarked, "Richard took a back-to-basics approach in market place environments under siege by automation and technology.  His research and 'mystery-shopper' methods confirmed the value and effectiveness of building one-on-one relationships through direct and meaningful conversation."
Neil also attended a workshop conducted by Leslie O'Flahavan of E-WRITE, which focused on "How to Measure the Quality of Customer Service E-mail". "Leslie not only offered key ways to evaluate email content, she also provided useful tips and suggestions for improving customer service email responses," Neil commented. "Her workshop delved into the nuts and bolts of composition, context, style, format, and grammar, and concluded with techniques and metrics for improving performance and quality of writing."
SOCAP continues to grow its membership and expand its resources for members with value-added offerings on their website as well as other annual industry events like the Automotive Summit and Data Reporting Workshop, not to mention the 2012 Canada Community Event and upcoming China Mission Trip. "There is an abundance of shared knowledge and collaboration that goes on at the SOCAP events and conferences. I don't think I've seen anything like it at any of the other meetings I've attended with other organizations. The amount of talent that is present is amazing, and the way everyone is open and supportive of one another is truly refreshing," commented Andy Begnoché, Director of Operations at Holdcom and SOCAP Member Services Committee Chairman. He continued, "I've been involved with this group since 2003, and it continues to deliver year after year. You know you have something special when you see new members returning after attending just one conference and volunteering to be part of committees and local chapters. It shows you they are getting a return on the investment. Even beyond the conference and local chapter events, there's so much content and tools to take advantage of on their website. The committee I chair is responsible for monthly webinars and the publication of CRM Magazine throughout the year. Our committee was also responsible for helping to build and populate a fantastic knowledge base tool called PING (People Networking), powered by Astute Solutions Real Dialogue. It's a natural language tool that you can query on all things Consumer Affairs/Customer Service related. It's all really great content."
For more information about SOCAP or to learn more about these programs, visit their website at www.socap.org.