Revera Health Systems operates 30 skilled nursing and rehabilitation centers throughout the United States – all offering both short-stay rehabilitation and long-term care as well as respite and hospice care.  A few centers also offer specialty units for memory care, pediatric care, ventilator care, and traumatic brain injury care. With so many programs and services to offer throughout the country, Revera facilities need to answer many frequently asked questions and enlighten callers… in addition to providing compassion.
"Our Message On Hold Program has benefitted our business by providing an "extra layer" of information for prospective patients and their families," explains Chrissy Timreck, Marketing Coordinator.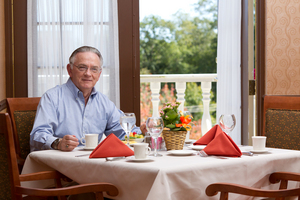 One such feature Revera is pleased to announce: HEART – Health Education And Recovery Together, A Revera Signature Congestive Heart Failure Program. The program speaks to the company's level of clinical expertise and state-of-the-art technologies.
In addition to featuring services and programs, Timreck is always sure to take the opportunity that Message On Hold provides, to boast about recent accolades Revera has received. "Just last month, four of our skilled nursing centers made the list of the "2012 Best Nursing Homes" through US News and World Reports, and 27 of our 30 centers have achieved Bronze Award status through the American Health Care Association," she proudly explains.
"Message On Hold has provided our company with another platform for us to disseminate timely and relevant news and information pertaining to our centers, and while customers are on hold, they have the ability to be educated on skilled nursing," states Timreck.
A majority of the Revera Centers update their on-hold programs via an audio file or through a remote load system – making changes a breeze… especially when facilities are scattered throughout the country.
"During the devastation of Hurricane Irene, one of our skilled nursing facilities was forced to close for an indefinite amount of time: The center was flooded and immediate renovations needed to be made," explains Timreck. "Our company looked to Message On Hold to help us spread the word that the center would be shut down while renovations were completed. HOLDCOM worked with us to create a new script for the center and they were able to record and distribute the new message for us in a very timely manner. By having Message On Hold, we were able to circumvent many of the community's curiosity calls to the center during this time, and we were able to maintain a level of professionalism during an unfortunate event."
"Revera Health Systems has always enjoyed and appreciated a high level of customer service with  Holdcom," concludes Timreck. She is in close contact with her Client Relations and Script Consultant reps – Donna Pompeo and Megan Andriulli, who according to Timreck "have gone "above and beyond" to ensure a positive, seamless, and almost effortless client/vendor relationship."
Having a client who knows what she wants and when she needs it, as well as one who understands the value a Message On Hold program will provide her facilities, makes the relationship equally successful.  Holdcom is proud to provide ongoing services to Revera Health Systems to help them in their mission of providing compassionate care to their patients and families.