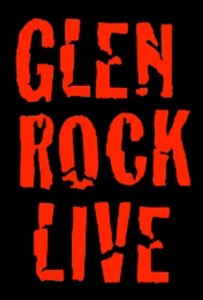 The premier event of the GLEN ROCK LIVE concert series certainly "put the ROCK in GLEN ROCK" this past Saturday night. Local performer Matt Roy, and area bands such as HALO HALO (pronounced "HAH LO") and SCOTT DECARLO SIX, filled the Glen Rock Jewish Center with both classic covers and original material.  Upon entering the venue, my expectations were immediately elevated by the sight of an impressive portable stage surrounded by an equally impressive array of sound and lighting equipment.  I've been to other functions in this particular space, but have never seen such a professional presentation.  The sound system lived up to its looks, skillfully engineered by one of the best mixers in the business.  Lighting added to the excitement and energy of the music and performances, transforming the social hall into a concert hall experience.
In addition to providing a showcase for talent, GLEN ROCK LIVE is dedicated to bringing quality performances and musicians to the surrounding community.  Its mission also includes a philanthropic component, in which a portion of the proceeds are donated to charitable causes.  This first concert raised not only money, but awareness for AUTISM NEW JERSEY.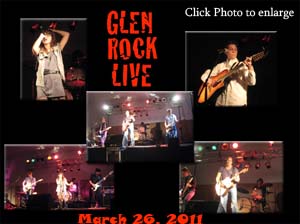 Fifteen-year-old Matt Roy opened the show with a combination of cover tunes and originals, and for a very young performer (Matt attends Glen Rock High School), he commanded the attention of his audience.  His stage presence, guitar accompaniment, and vocals were well balanced, and his interpretation of standards (e.g. The Beatles' "Dear Prudence") was fresh and inventive.  I was particularly impressed with the songwriting skills evident in his original, "Speed of Life".
Next up was HALO HALO, another very young (high school) band comprised of graduates of the film-inspired "School of Rock" franchise.  This act commenced with a high-octane version of the Katrina & the Waves' pop hit "Walking on Sunshine" and proceeded into a non-stop, high-energy 40 minutes of 70's-80's rock classics ranging from Led Zeppelin to Pat Benatar.  Featuring an effervescent, wonderfully animated female lead vocalist, strongly supported by a four-man foundation of rhythm, HALO HALO just got better and better as the set progressed.
Scott Decarlo, veteran Nashville recording artist, supported by his band SCOTT DECARLO SIX, played the final set with utmost professionalism.  This singer-songwriter has a catalogue of original songs that brings Country Rock to the edge, and whose energy brought audience members to their feet.   SCOTT DECARLO SIX is just one step away from well deserved national recognition.
Holdcom looks forward to continuing its sponsorship affiliation with GLEN ROCK LIVE, and is eager to participate in the support and promotion of the next event.  Call us at 800.666.6465 if you'd like to discuss sponsorship opportunities for your company or organization and be represented in this multi-faceted venue.