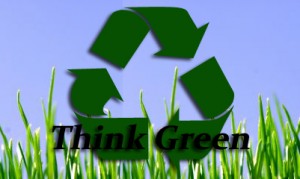 If you're looking for an article about organic foods, veggie burgers, or where to locate responsibly raised meat, this article isn't for you.  (Not that there's anything wrong with that.)  No matter how "green" your behavior, it seems like there's always someone "greener" telling you how you can be more responsible.  Our goal with this article is to help you get a little closer to your "inner environmentalist", without feeling like you drank the Kool Aid.
Having a "green" barbecue sounds like an oxymoron.  The idea of cooking beef on an open fire that's billowing smoke doesn't exactly paint a picture of environmental responsibility.  But let's face it, who doesn't love a good old-fashioned barbecue with all the fixin's?  A hardcore barbecue enthusiast might scoff at a clean burning natural gas or propane grill, but that's a great place to start.  Leave the charcoal and lighter fluid to the Pit Masters.  The best thing about grilling, is you can grill anything, from fresh fish to vegetables.  Be sure to grill with the barbecue cover closed to maximize efficiency. If you're like me and your automatic ignition button doesn't work, recycle your used-up Scripto Multi Purpose Lighters.  You may not be able to light candles with them anymore, but the spark they create works great for lighting your stove or grill.  Also, when it's time to clean the grill, scrape off any charred remains with a stiff wire brush and cover the grill surface with aluminum foil, shiny side down, and let the grill run on high.  This will concentrate the heat on the grill and burn off all the build-up and avoid the need for any harsh chemical cleaners. (Be sure to regularly clean out the grease tray to prevent grease fires.)

One of the biggest problems with barbecues is the amount of garbage that's produced.  From disposable items like plates, cups, cans, and bottles, to table clothes, utensils, and decorations, you can just picture the amount of waste.  Some easy and fun ways to deal with this is to get creative with your drink choices.  Instead of filling the cooler with cans of soda and bottles of beer, make a kid-friendly punch for the children and a spiked punch for the adults.  Or see if your liquor store offers beer in a party ball or mini keg.  Some local breweries offer 2 liter glass jars or "growlers" (freshly poured, of course) that are refillable.  Instead of bottles of wine, try making a batch of Sangria.
There's nothing like the fast and easy clean-up of disposable utensils, plates, and cups, but the guilt of feeding the landfill monster can keep you awake at night.  Is it possible to have the best of both worlds?  Some manufacturers have addressed the issue with disposable plates made out of bamboo called Veneerware.  Yes, single-use bamboo plates.  However, you will pay more and they still end up in the trash.  I recommend investing in some inexpensive durable plates like Corelle, which come in lots of cool colors and patterns.  If that's not traditional enough for you, check out these melamine plates and cups designed to look like their disposable cousins.  Ikea also has some great inexpensive plates that are durable and reusable.
Let's face it, the temptation for disposable utensils is huge.  No one wants a piece of their silverware to end up in the sandbox or tossed out with the uneaten casserole.  And who has enough forks for 25 guests for dinner and dessert?  But there are alternatives.  We've been buying the real- looking cutlery manufactured by Comet and we ask guests to drop them in the sink or in a container by the trash; then we run them through the dishwasher.  They look so real that they often get mixed up with our "real" silverware.  We also invested in inexpensive cutlery from a catalog.  These are real metal utensils that we use for large parties and keep in a Ziploc bag in the pantry when we're not using them.
What would a barbecue be without the decorations?  Buy decorations that you can store and use for several parties instead of throwing them away after just one event.Swap decorations with friends when you tire of them, rather than tossing them in the trash. A string of Christmas lights will make any event stand out, especially at night.  Add some color with flowers from your local farmers market.  Best of all, you can plant them in your garden when you're done, or give them out to guests when they leave your party.  Looking for a way to get rid of larger party theme items?  Go to a second-hand shop or church garage sale and then donate the items for resale when you are done. If your outside tables aren't presentable for your party, don't cover them with those cheesy plastic table cloths; use an inexpensive linen table cloth or sheet.  Or try something totally different - paper table cloths.  Choose from a variety of fancy and real-looking covers that are all made from paper.
Being greener may cost you more initially to invest in some of the reusable items, but it won't take long to recoup your investment.  You'll be glad you did, and so will your trash collectors.