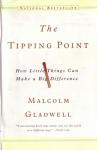 by Jeremy Fishman
Have you ever been stuck in a quagmire of bumper to bumper traffic only to  ask yourself where did all these cars come from? Have you ever been outside on a clear, sunny day, and within five minutes wonder why you are soaked from head to toe?
These phenomena may seem like bad luck, or random chance, but Malcolm Gladwell, sociologist and author, insists otherwise. His first novel The Tipping Point, published in 2000, explores the sudden, drastic change that transforms unknown fashion statements, music styles, technological innovations, you-name-it into full blown social sensations.
Gladwell approaches social or natural change with the model of an "epidemic." He examines three factors that underly social epidemics: "The Law of the Few", where he examines outstanding individuals who 'promote' the spread of information; "The Stickiness Factor", or the durability of the message; and "The Power of Context", or the ability of the surrounding environment to affect the explosion of a social "virus." All of these factors interact until the trend reaches a "tipping point" and the epidemic skyrockets.
Gladwell's style is simple and straightforward, lending to an easy and insightful read. His theory, when applied to such examples as the drastic, unprecedented decrease in crime in New York City in the late 1980s or the fashion craze of Hush Puppies, is convincing. He masterfully draws from psychological, economic, and social research gathered from professionals and case studies to support his approaches. Despite the avalanching pace of the novel, he often repeats conclusions established in earlier chapters in order to make sure that the information is fresh in his reader's minds, and though this may get tiresome, by the end of the chapter the reader gains a true understanding of the described situation.
When reading this book, I felt intrigued, but also skeptical. When Gladwell stated at the beginning of the novel that his theory mayseem to go against human rationale, I took that as a "cover" on why his theory may be implausible. Gladwell's main point is that crucial change does not occur gradually, but from "little things", such as the placement of letters in a marketing campaign, or cleaning subway trains of graffiti. However, his explanations seem over-simplified. He only supplies information that support his theory, not facts that negate his ideas. This is an example of a "confirmation bias", that Gladwell-the-psychologist clearly demonstrates.
Overall, the novel shows fascinating examples of the evolution of social behavior. Readers can not only absorb the information, but apply certain behaviors to their own lives: such as that of Connecting, Persuading, or Gathering Knowledge. Gladwell's language and examples are proud disciples of the Information Age. He is an intelligent observer who sees the overarching picture, who wants to show that even the most miniscule factor influences change, and that "change is possible." This read is highly entertaining and will lend itself to hours of discussion among peers, but in the end is a collection of mostly unpractical "the-more-you-know" tidbits.
Malcolm Gladwell has written three other novels: Blink, Outliers, and What the Dog Saw: And Other Adventures. For other novels similar to The Tipping Point, check out Freakonomics.