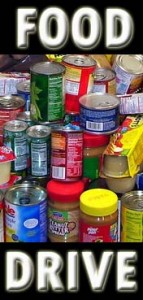 We've heard terms like "Homeland Security", "National Security", "Social Security", but have you ever heard the term "Food Security"?
Food security, simply put, is access by all people, at all times, to enough food for a healthy, active lifestyle. According to the U.S. Department of Agriculture's Economic Research Service, in 2008, 85 percent of U.S. households were food secure throughout the entire year, and 14.6 percent of households were food insecure at least some time during that year, up from 11.1 percent in 2007. This is the highest recorded prevalence rate of food insecurity since 1995 when the first national food security survey was conducted.
Hunger is a growing problem, and its effects are far reaching. As you read this, American men, women and children are going to work, to school, to bed, hungry.
Holdcom responds to this with our 2010 Food Drive, to benefit the Kitchens at Eva's Village. Located in Paterson, NJ, Eva's Village has been a beacon for its community since 1982. Serving hot meals, providing a warm blanket, or even desperate medical care, the staff members at Eva's Village believe that all those who are hurting and homeless need them as friends and companions on their journey.
Our Food Drive begins on February 1st and continues until February 22nd. Non-perishable grocery items, paper products, and utensils can be donated and dropped off at Holdcom's Glen Rock, NJ office located at 955 Lincoln Avenue. Feel free to contact us at 800-666-6465 with questions, or email joep@holdcom.com.