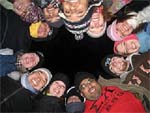 According to data from the US National Center for Health Statistics for 2001-2007, an average of 7,200 Americans die each day during the winter months (December-March). High-risk individuals include infants, the elderly, pensioners, and the homeless.
This winter is predicted to have intense drops in temperature, accompanied by several blizzards. With unemployment stagnant at 9.2% and heat prices climbing, more and more people cannot afford winter clothes to defend against the cold.
For several years, Holdcom has supported the Jersey Cares Annual Coat Drive, which runs from November 1st to December 15th. Holdcom collects donations and promotes the cause to local businesses. According to their website, "every fall, The Jersey Cares Coat Drive collects and distributes over 40,000 'gently used' winter coats to at-risk men, women, children, and infants."
If you are in the North Jersey, you can drop off donated coats at our Holdcom office, located at 955 Lincoln Avenue in Glen Rock. Last year Holdcom collected over 70 boxes of coats. For a list of public collection sites, or to find out more about Jersey Cares, check out their website.
Also, we are collecting this month for our annual "Toy's for Tots" drive!
Thank you!