You invest in the look of your establishment and all the amenities, and you're probably spending a lot of time and money to make sure your marketing and promotion is on point. But don't overlook how you "sound." Whether it's the voice callers hear when they first call or wait on hold, or the music that plays in the background of your lobby, everything registers with your clients.
Talk to a Holdcom representative about the range of audio marketing services we offer and how it can help you grow your business while keeping you under budget. Please contact us for more information.
Audio Marketing Services for Salons and Spas
Message On Hold can let your clients and would be clients know about all the amenities and services you offer. Use it to promote seasonal or weekly specials. Generate business in slow times. Take advantage of peak business times by promoting related services. Your callers are often on hold for a few moments when they call for an appointment, Why miss the opportunity to let them know what you have to offer?
Free up your receptionist for in-facility clients by developing an IVR system that automatically answers calls. This system can help clients make appointments, confirm service availability, and more. Voice prompts not only help your clients, they also help grow your professional image.
If you want to show off your facility online, a virtual tour is one of the most effective ways to do it. You can introduce your staff, promote your services, or highlight your peaceful decor. Adding serene music and a soothing voice over can give you a "guided tour" feeling. Plus, adding audio to your virtual tour lets you show and tell.
As many people are using the web to find salon and spa services instead of traditional yellow pages, it's more important than ever to have a great website that reflects your professionalism and quality. Adding audio to your website in the form of narration and music can help you elevate your web content and online presence.
Improve clients' experience in your facility by adding legally licensed overhead music. Our simple system gives you major label and indie choices while providing complete scheduling and playlist flexibility.
---
Audio Marketing Resources for Salons and Spas
How to Use Audio to Improve Hospitality Marketing and Guest Services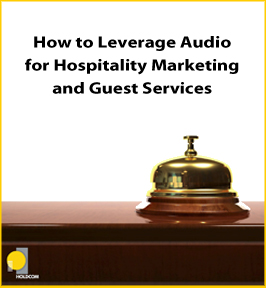 Learn how to incorporate audio into your branding, marketing, and service strategies for maximum impact.
Learn more about audio marketing for hospitality properties at Sound Communication, the Holdcom Blog
Testimonials
Message On Hold has been very beneficial for us. It has provided the perfect opportunity to inform callers about all they can experience at our parks. We see this service as one of our most effective marketing tools. Being a state agency, the image we convey to our callers is very important to us, and Holdcom provides us with a great image. The Holdcom personnel that we work with has always been great. They have walked me through tall the processes needed to provide the best experience for our callers. They remind me when it's time to update the scripting and they provide me with plenty of lead time to make my changes. I appreciate all the help they provide with the copy.
Karen Miller, Kentucky State Resort Parks
Message On Hold has offered us the flexibility to create messages that our guests receive during that awkward period of having to place a guest on hold for whatever reason. Many times we hear from that they have learned something new about us. We change the message often enough that it is always fresh and informative.  We are very Happy with Holdcom, and this is why we have used them for so many years. Thank you for being a wonderful marketing partner to us!
Diane Carr, Bernards Inn
---