Audio marketing is a key strategy that restaurants and catering facilities rely on to communicate, inform, and educate callers and guests. A variety of systems and service levels are available that can be customized for any facility requirements. The well-tailored use of audio has allowed restaurants to improve guest services, boost public relations initiatives, and grow customer acquisition, loyalty, and engagement.
Holdcom has a range of audio marketing services to suit the needs of the largest restaurant chain as well as the budget of a single, smaller restaurant—Speak to a Holdcom representative about your specific requirements or challenges.
Audio Marketing Services for Restaurants
Professionally scripted and produced voice prompts help callers more efficiently navigate phone systems. This can help them make reservations, get information about events and catering, or hear your current menu.
Message On Hold provides the perfect medium to transform passive hold time into informative communication time.You can highlight seasonal menu options or promote new services.
Overhead music gives your restaurant or catering facility overall ambiance. You can use the music of your cuisine's native land or change music depending on time of day and clientele. You can control every aspect of your overhead music.
If you want to feature new offerings or create a branded, in-restaurant radio station, adding overhead announcements to your ambient music can help you see results.
A virtual tour can highlight the best features of your restaurant: your state of the art kitchen, newly remodeled dining room, even an award-winning chef. Adding audio gives you the opportunity to show and tell.
---
Resources for Restaurants and Dining
How to Use Audio to Improve Hospitality Marketing and Guest Services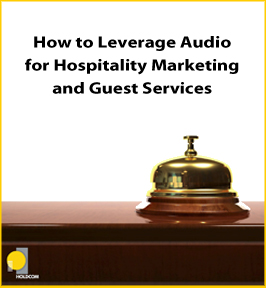 Learn how to incorporate audio into your branding, marketing, and service strategies for maximum impact.
Learn more about audio marketing for restaurants and hospitality properties at Sound Communication, the Holdcom Blog.
Restaurant and Hospitality Testimonials
My partners didn't believe in Message On Hold – but once I used it, the response I got was tremendous.  People don't seem to mind waiting on hold. It's long enough where you can hear most of it, short enough where you get the important bits and pieces.  I can't recall how many times people say 'Oh! I didn't know the train goes right by your place' or 'I didn't know Oktoberfest started already,'" all because my message on hold program informed them. A local restaurant might be small potatoes compared to some of Holdcom's bigger clients, but I always treated as someone special – that is how I want my customers to feel – sitting at my table, or even on hold, or on line.
Lee Tremble, The Iron Horse
Message On Hold has offered us the flexibility to create messages that our guests receive during that awkward period of having to place a guest on hold for whatever reason. Many times we hear from that they have learned something new about us. We change the message often enough that it is always fresh and informative.  We are very Happy with Holdcom, and this is why we have used them for so many years. Thank you for being a wonderful marketing partner to us!
Diane Carr, Bernards Inn
---
Restaurant and Dining Client Samples
Restaurant Message On Hold Demos